In those special & confined times, I must say it's a nice surprise to discover an awesome band and an even nicer one to realize that they're from the same country as you are. I often say how good the swiss music scene is but I'm always baffled of the number of excellent bands I've never even heard of !
Well with that out of the way, let me introduce to you, Hanter Dro ! A tasty and enigmatic Post-Hardcore band from Lucerne (Yes again !) and they agreed to play the interview game with us. Their vinyl album « Death By Algorithm » and first eponym album are available through our online store here. [A.C]
Hi there ! For those who don't know you yet, could you introduce yourselves in few words ?
Band : Hello, we are Hanter Dro a post-hardcore band from lucerne (CH).
How would you describe your style of music ?
Band : It's a mix of hardcore and alternative rock music. Intense, melancholic, thick.
You recorded the album "Death by Algorithm" in your own studio outside of Lucerne (CH), right ? Are you guys in a « DIY » process ?
Tim Fischer (Vocals) : I live in an old farmhouse which has a quite big attic where I have my home studio and where all the recordings for the album happened. "DIY process ?" I think not intended, but I guess we like to have control over the process. So most stuff we do by ourself, obviously the music, the lyrics, the recordings but also most of the booking, administration, merch etc. But let me say here, we are very thankful for the label Little Jig Agency which helped us a lot with the album promotion and the work it needed for the release. And a big thank you to our friends and everyone involved.
For the mixing, You collaborated with well known American producer Chris Common (These arms are snakes, Le Butcherettes), what was it like ? Did you guys go at his studio in El Paso, Texas ?
Band : He did a fantastic job. We are very happy with the result. We unfortunately didn't go to his studio. We sent the audio files over to him and communicated via email, which worked pretty good. An educational experience for sure.
"Death by Algorithm" is a very intriguing concept, what is it about ?
Band : First and foremost we wanted to make an album which works on vinyl and as "whole" but still contains all our different colors. The ambient and the noise parts, the quieter and the louder heavy stuff. We think it worked out great and we are very proud how the album turned out.
Content-wise, in a way, "Death By Algorithm" deals with the discrepancy between the human as a primitive life-form and the increasing complexity of the digital world and the following challenge for the human being to maintain the basic needs. Or summarized it's about humans relationship to each other, humans connection to nature and the history of communication technology.
In the song « Astronauts From The Underground » there is something that reminded me a little bit of Sonic Youth, a brutal version of them. What are your influences ?
Band : We have always liked Sonic Youth but it's more like Leonard Cohan to Refused and from Lana Del Ray to Craft. 
What is the creative process in the band ?
Tim : Usually someone brings an idea and we then work on it together in the rehearsal room and sometimes it even becomes a song. Or we make jam-sessions and record it and go from there. Lyrics mostly happen afterwards. Often I have some words or phrases in my head which I think fit the emotion /mood of the song and then shape the basic structure for the song lyrics.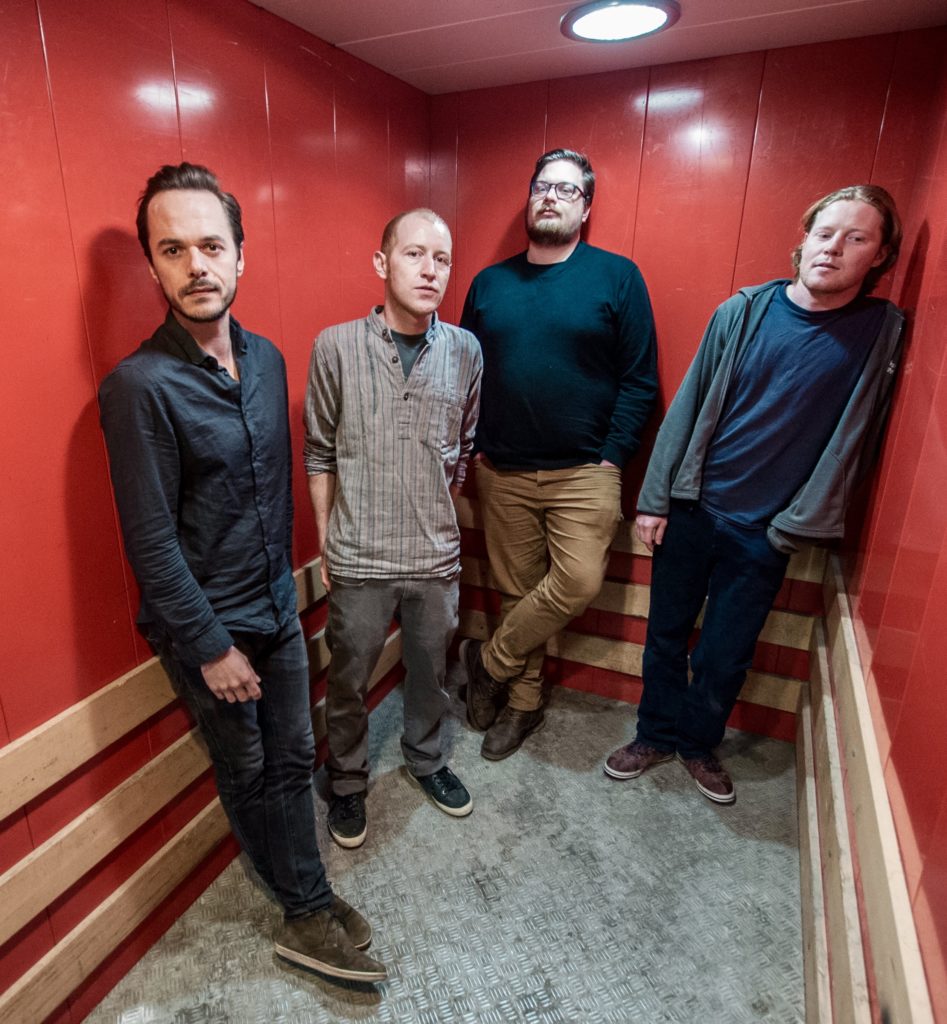 Do you play in other bands too or are you 100% dedicated to Hanter Dro ?
Roman Krasniqi (Drums) : I play in an other Project "Edward Bloom" (with Elina from the band Carson). It's a kind of postrock music where I'm playing guitar instead of drums.
What artists are you guys listening to lately ?
Roman : Billie Eilish and Billy Holiday !
Tim : Verse, Cold Reading, Vi som älskade varandra sa mycket and there's Tom Petty in my car.
Jerry Fischer (Guitar) : The Cure, Paco de Lucia, Motorpsycho, Kruger.
Any shows or special event to announce ?
Band : Actually we planned to play some shows until summer and see what happens afterwards. But obviously this has changed with the current "corona" crisis in europe. Let's stay positive that we soon get our life back on track. Stay strong. Stay healthy.
What do you think about the avent of both the digital age of music and social media platforms such as Facebook / Instagram ? In your opinion, is it a good thing or a bad thing for bands ?
Roman : It's something very interesting and useful these days for any artist i think.
Tim : I agree. I'm cool with digital music plattforms as well (Spotify etc.) But for me personally it's still important to have something in a physical format, at least from my favorite bands/ artists. I think for all of us.
And about the swiss music scene ? Is it difficult to cross the language barrier within the country ?
Roman : There are a lot of very good Swiss Bands out there.
Tim : Yes, many great artists in switzerland. About the language barrier I actually don't know but what I know is that we always loved artist from the romandie. Bands like HoneyForPetzi, Favez, Knut and Kruger have been favorites of us. 
Thank you so much guys ! Any wise word to end properly ?
Band : Hey man. It's been a pleasure. Thank you so much for doing that.
– In empty space new matter awakes –